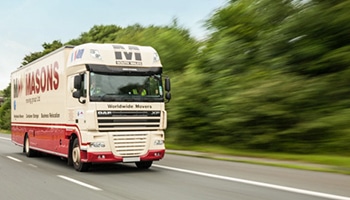 If you've received your copy of Cardiff Life, you'll see that we were featured and gave the team some top tips about choosing a Cardiff removals company! If you haven't got your copy yet, you can read the full article below!
Masons Moving Group – Removals in Cardiff, the UK and across the World since 1905!
Did you know, the average Briton will move home five times during their lifetime and the stress of it will last more than three months? The stress starts even before official moving day, when the reality of just how much 'stuff' you've accumulated over the years! Plus the realisation of just how long it's going to take to carefully pack all the knick-knacks starts to dawn! And once we've arrived at our new destination, much to our horror we realise that our much-loved furniture doesn't fit in its new home and misplaced possessions will only add to the top of our list of stressful moving day moments… plus how long do you wait to unpack once you've moved into a new home?
Moving home can be a challenging and testing time of any good relationship, a little bit like building flat-pack furniture together… only on a much larger scale with far more risk involved as there's no instruction manual to follow! Recent research by energy company E.ON found 60% of over 2,000 adults interviewed placed moving home at the top of their stress list! Relationship breakdown, divorce and starting a new job were all joint second. In the same study by E.ON, over a quarter admitted to leaving it weeks before unpacking their boxes!
Although, it's not all doom and gloom, when asked about their top tips for moving home, half of those questioned advised having a takeaway meal lined up for the night you move while almost a third said keeping a chilled bottle of wine or beer in the fridge would make the move more manageable, along with having children and animals looked after whilst you take care of the move. 
Moving home is undoubtedly a stressful experience and there is so much to think about but there are plenty of ways to make the entire moving process a bit easier. Choosing a reputable removals company such as the Masons Moving Group, will ensure that everything runs smoother. Based in the Vale of Glamorgan, just ten minutes from Cardiff, we have been operating home, commercial and international removals for over 110 years!
Moving Made Easy
Starting off as a horse-and-cart company with Sidney Mason back in 1905, Masons Moving Group are a family business with the fourth generation of Masons taking over the reins. Now with a much bigger fleet of vans than the original horse and cart – we'll get you there a bit quicker than 100 years ago! Masons are expert removers in Cardiff, having organised thousands of home and business moves, across Cardiff and from South Wales to far-flung locations across the globe.
The customer is at the heart of every service we provide, maintaining our high standards of service to ensure the move goes smoothly, is of prime importance to us. Anyone can get a 'man with a van' however, with us, you can be reassured that you will be receiving a high-quality service keeping stress to a minimum!
Even if you only have a small number of possessions or aren't moving that far, it's always worth hiring a professional removals company to help you move. Packing up and moving your belongings doesn't seem like it would be that difficult, but there is an art to packing fragile items so that they're properly protected and don't get broken in the move!
We are a Which? Trusted Trader and a member of the British Association of Removers (BAR). Removal Companies displaying both these badges demonstrate that they are dedicated to promoting professional excellence in the removals industry ensuring their customers receive a high level of service throughout. The BAR Badge represents the benchmark for quality, so if you are moving to a new house and looking for a removal's specialist, make sure you look for the BAR badge! 
Masons' Top Tips for choosing a Removals Company
We have put together a few tips for choosing a removals company to help take the stress out of moving day and enable you to have a smooth and efficient move! 
Look for the BAR Badge 
The British Association of Removers (BAR) are dedicated to promoting professional excellence in the removals industry, so ensuring that you, the customer, will receive a high level of service throughout.
Choose a Which? Trusted Trader
The Which? Trusted Traders endorsemnt scheme can help you find a reliable removals company in your local area. All removals firms granted Which? Trusted Trader status have passed their rigorous assessment process which involves a range of checks, as well as an interview with a trained assessor.
What do you really need them to do?
Think carefully about your requirements for a removals company. Do you need someone to pack up your belongings for moving to a new house, or for storage? Are you moving to a new house, are you worried about fragile items, electricals etc? The more details that you put in your initial quote, the more precise and accurate the removals company can be with their quote.
Check the reviews!
Once you've found a removals company that you think that you like the look of, check out their reviews, whether or Which?, Facebook or on Google. Checking reviews, especially verified or trusted reviews, is an excellent way to reassure yourself that you're choosing the right company!
Do you also need storage?
Whether you're downsizing or your new home isn't ready when you are, if you also need storage, double-check to see if your removals company also offers container storage or self-storage options available as it will probably be cheaper and easier than finding a secondary storage option. Our sister company, Masons Self Storage offers flexible contracts and a personal but professional approach to self-storage!
If you're looking for Cardiff Removals, then Masons Moving Group are based just ten minutes from Cardiff Bay, Penarth and Cowbridge in Barry, Vale of Glamorgan; where we have been moving families and businesses alike all over the world for more than 110 years! You could say that we know our stuff!
To find out more, call our friendly team on 0800 141 3688 or drop us an email: enquiries@masonsmovingroup.co.uk for your free quote!