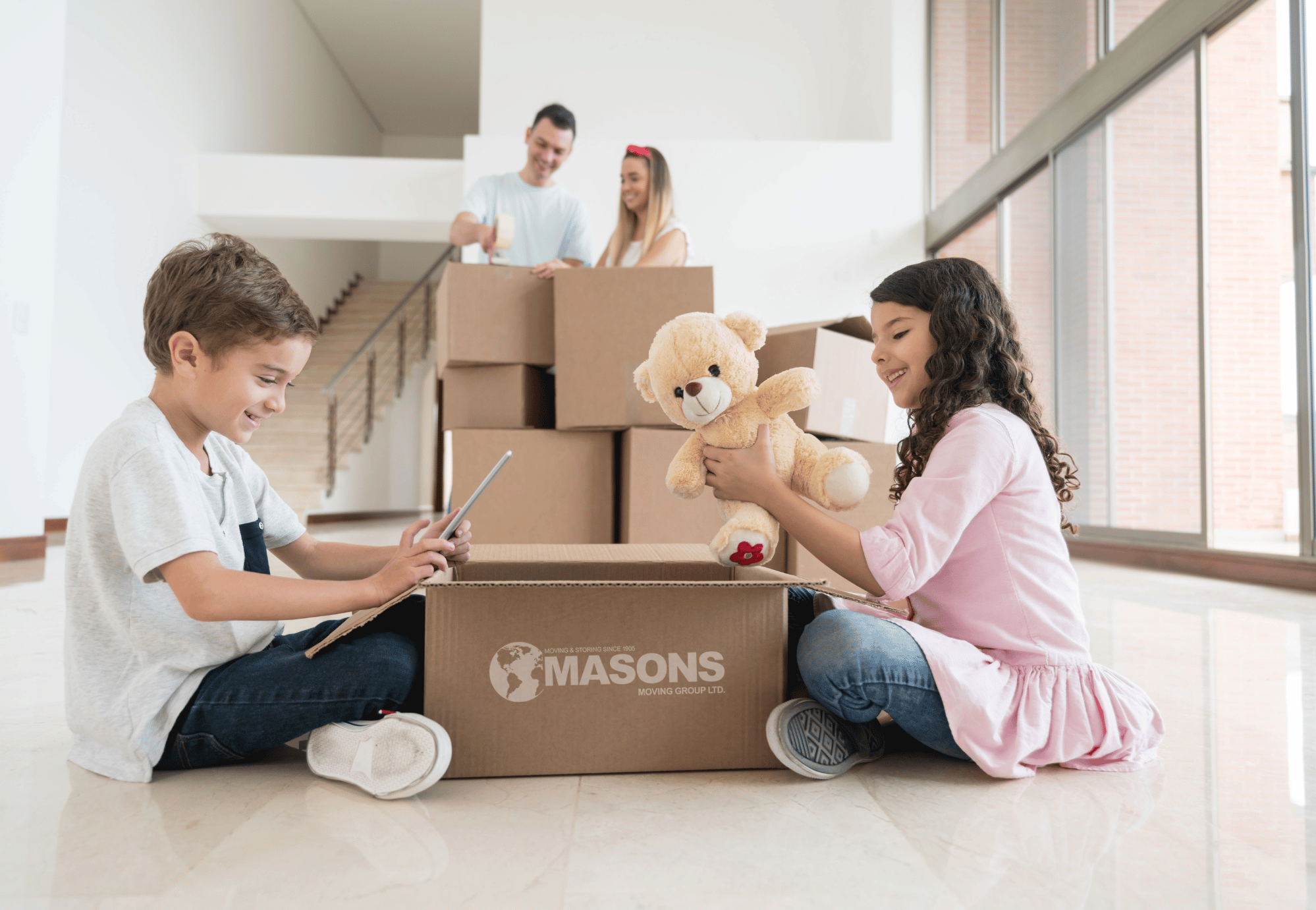 Moving home is stressful, but when you're moving with kids, it is important to stay positive! According to new research, organising a house move is the most stressful time in a parent's life, with almost 9-out-of-10 parents (87%) find moving stressful, with 1-in-5 revealing the biggest concern whilst moving home was entertaining or looking after their kids! Here at Masons Removals Cardiff, we have organised completed hundreds, if not, thousands of home removals in Cardiff, and across the world, involving children over the past 110 years! We spoke to our customers and asked them for their advice to any parents for moving home with children and keeping them entertained.
Below, we have compiled the top tips from our customers:
Involve your children in moving home
Everyone we spoke to said this was the most important thing. Letting your children know ahead of time that they will be moving home, ideally a month or two in advance so they have time to think about it, but not to get worried.
If you're moving to a new area, take them on a tour of the new area and if possible, take them around the new house.
Plus a house move is the perfect time to de-clutter! Get the kids involved with packing up some of the easier parts of their room and organise their toys and clothes into what fits/is played with, what can be donated and what needs to be thrown away.
Give them some control
Depending on their age, let your kids help you by asking their opinion on colours of paint, furniture and other decorations, especially in their room. By including them, they will feel excited about the new house, especially their new bedroom, rather than worried.
Buy a special bag or get your children to decorate a moving box, so that each of your children has a special place to fill with things they love! Plus a few items for them to have during the actual move and then for the first few days at the new home. Leave their favourite toys out as long as possible or pack them into their special bag.
If your kids are at school age, try to avoid a move during term time
If you're moving home and into a new area, try to avoid moving partway through a school year. If they have to start a new school, not only will they have to potentially adjust to a new order of things at home but at school too. Plus, it is often more difficult to make friends once the term has begun and friendship groups are already defined. Moving during the summer holidays will make the transition easier.
Stick to your routine
Consistency and continuity are important! So, any weekly activities that you usually do such as board games, pizza, and special family meals on particular days, ensure that you continue to do these in your new home.
Make Moving Day Fun
If you have any spare boxes, let the kids play games with the boxes. Or let them decorate the boxes for their room so they're easily identifiable as theirs. If it's going to be a long journey on the day, make sure they have their favourite (small) toys and maybe some travel games to keep their mind occupied and not worrying!
Don't show them that you're stressed or worried
Children are so intuitive and look to you for emotional cues. So, if you're showing your stress and worry around the move, this will lead to your children to worry and think that the move is a negative thing. However, if you're positive and excited for moving home, they'll feel excited too and feel like everything will be ok!
If you're looking for a Cardiff removals company or organising a home move in Cardiff, here at Masons Moving Group, we have a team of expert movers! Starting out as a horse-and-cart business back in 1914, we are a family-run business and understand the stress that moving home can place on children! Plus, we are the Cardiff Franchise for Bishops Move!
To find out more, or to get your personalised removals quote; call our friendly team on 0800 141 3688 or drop us an email: [email protected] for your free quote!