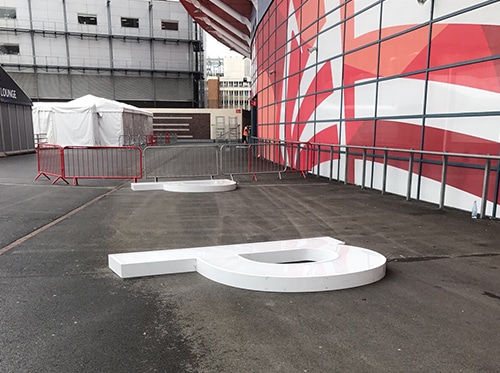 Imagine that you're at standing in the heart of the Principality Stadium, the home of Welsh rugby and an epicentre of culture and events in Cardiff and you have this logistical problem:
On the 3 June 2017 was the 2017 UEFA Champions League Final which meant the massive stadium needed to be emptied of over 5,000 seats to make way for TV cameras and commentary boxes as most of the world would be watching! However, on the 21 June, Robbie Williams is performing a sold out show at the very same Principality Stadium and all of those seats need to be put back in their rightful place. So over 5,000 seats need to be taken down, stored and then put back in the exact same order! What would your plan be?
That was exactly the brief that Gary Mills, a Project Manager from Electranet who manage a variety of contracts for the Principality Stadium, presented to us here at Masons Moving Group. Gary looked far and wide at a solution and looked at lots of different options including storage containers but they needed a removal company in Cardiff that could not only remove the seats within the tight timescales, but also store them until they were required again in time for the Robbie Williams concert. It might sound simple to remove over 5,000 seats and then just put them back again, but it is a complicated project as the seats need to be removed, coloured coded and numbered, in a specific order, stored in that order then replaced with the exact correct structure of seating. There weren't many removal companies in Cardiff that had enough men, were professional enough to manage the logistics as well as to have the storage capacity to store a huge 5000+ seats! Masons Moving Group were appointed as they ticked all of the boxes.
So once we had the go ahead, here's how we started to break down the project: from level 6, 3,000 seats had to be removed for the UEFA Final and then 750 seats from the pitch level with another 2,000 seats having to be removed on the North Stand Level 4. We started removing seats at pitch level which is where the seats will need to be replaced first and worked our way up according to a very comprehensive colour-coded plan!
There was also the problem of removing, storing and returning The Principality Stadium signage, which had to be carefully handled and each letter expertly wrapped in furniguard for extra protection whilst in transit and storage.
This was a huge logistical job for Masons Moving Group, with resources pulled in from across the group to accommodate the move which rolled out in three phases, the first two of which took over 2 weeks to complete and included; the provision of over 30 van loads, the packing of over 100 storage containers with the application of 50 trained staff. Along with the signage, all seats were stored for a six-week period.
Access was difficult with long walks and three different areas to load from but what the men experienced whilst the work was going on was magnificent. Danny Jenkins, one of Masons experienced porters commented: "You just wouldn't believe what preparation goes on behind the scenes for these big events, such as a guy absailing with a powerblast to jet wash the stadium to the precise detailed work of lighting of the pitch. And in the midst of all of this you have lots of tours going on, with people visiting the stadium, taking photos and selfies. It was an incredible experience for me and the men." And we even got to meet Gareth Edwards!
We began on the 27th April, 2 of the 3 phases were returned after the Champions League final in preparation for the Robbie Williams concert on the 21st June, 2017 and the final phase will be completed in July.
It has been incredibly exciting trying to mastermind a project that has such tight deadlines however we are so excited to be involved in a project involving such a key part of Welsh culture! As we got our own behind-the-scenes tour of the home of Welsh rugby, we definitely couldn't contain our excitement!
Masons Moving Group are expert movers based in South Wales with over 100 years in the removals and storage industry. From our humble beginnings of a horse-and-cart company, Masons has grown to become an international removals company, operating both home and business removals across the UK and around the world on a daily basis. Our experience puts us as one of the longest standing and most trustworthy moving companies in the UK, so you can trust Masons to get the job done safely, securely and efficiently, and thats for all customers, not just for Robbie!