If your big moving day is around the corner, we completely understand the stress you may be feeling. After all, packing up your entire home to make your way to a new one is no easy feat. But, don't forget that these are exciting times – you may be moving to a new city, relocating to a family-friendly suburb or moving to your dream location – whatever your reason, your house move is a milestone moment.
However, if it's all getting a little too overwhelming, no matter how hard you try to see the positives, chances are the root of a lot of your stress is the tedious, strenuous packing process. It's hard work trying to sort out your entire life belongings in just a few weeks as you figure out what to keep and part ways with.
Luckily, you're here at Masons Moving Group, fondly still remembered by our original name, Mason Removals. We're about to reveal all the top tips for packing for a house move.
But first, get your mind right
Negative emotions about the move like; fear, anxiety, stress, or dread, can lead to mistakes and rushed decisions. To overcome this, write a list of all the positive changes the move will bring. Example: more space, a better community, or learning new moving skills
Make a checklist
Your checklist can include information like;
Supplies needed for the move
A timeline of who to contact (for example; call the new landlord on the morning of the move to switch on the hot water)
A packing schedule like; which days to pack which room
Get rid of unused or unnecessary items.
A crucial step before packing is deciding which items to keep, give away, sell or donate. The last thing you want is to pack and unpack unwanted items. If you are having trouble deciding what to toss at this stage, it's best to rent a storage unit. A storage unit will buy you valuable time to make decisions with a clear mind. A bonus of self storage is you can store seasonal items like Christmas decorations instead of carting them through the move. Check out our sister company, Masons Self Storage, if you need the extra space.
Gather your moving supplies
Some of the essential packing supplies you will need include; moving boxes, tape, scissors, and bubble wrap. Pro-tip, Masons Self Storage offers you the opportunity to call and reserve your packaging supplies over the phone.
Get packing
An easy method to pack is to start room by room. If you have the time, you can schedule one room a day. Things to consider when packing:
Don't overpack the boxes, this might lead to them breaking and your items getting lost or damaged.
Use the right size moving boxes, for example, put heavy items in small boxes and lighter items in big boxes
Don't leave empty spaces in boxes, this will lead to items moving around and breaking. You can fill the spaces with newspaper, clothes, or bubble wrap.
Insulate the breakable items like glass by wrapping them in bubble wrap, packing paper, or newspaper to prevent breakages when moving
Bring in the professionals
At Masons Removals, we know how to make packing for a house move a success. After all, we are third-generation movers, so it's in our DNA! If the packing process is all too much to handle, we are here to do the heavy-lifting for you, quite literally. We have a team of expert packers who will neatly, securely and efficiently pack all your household items, from the big furniture pieces to the tiny knick-knacks. What's more, our range of packing materials ensures your items are well protected when in transit, so you don't have to worry about your valuables getting damaged or dented.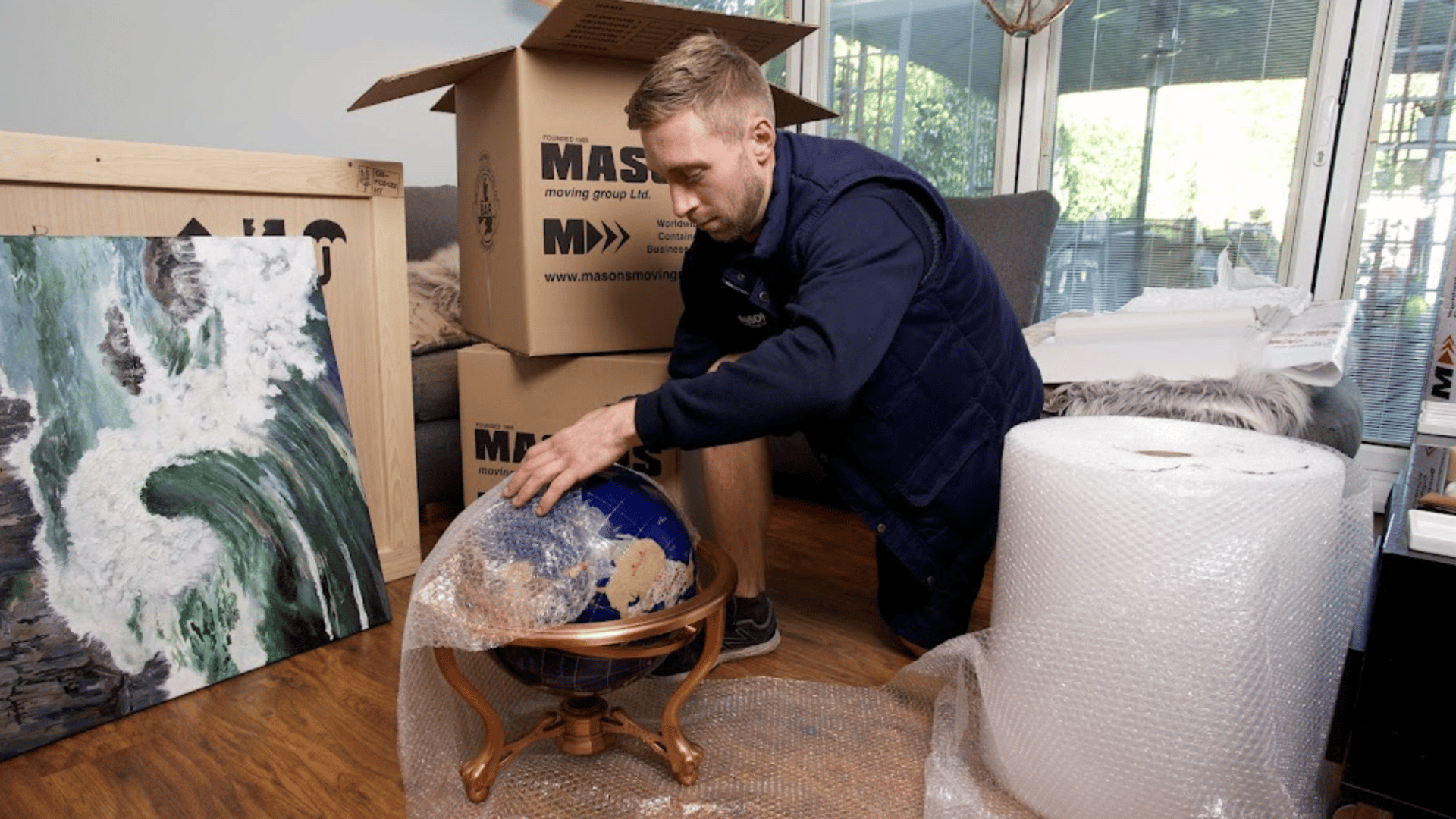 Moving Day with Masons Removals
Masons Removals has your back while packing and moving. So if you're looking for house movers, you've come to the right place. Our state-of-the-art moving vans and professional moving team will box your belongings, neatly and securely load them for transit, and safely deliver these items to your new location. Moving day with Masons Removals is stress-free, smooth and efficient.
It's time to stop your search for removal companies South Wales because you've finally found the most trusted name in the business. With a legacy that spans over 115 years – we can help you relocate anywhere in the world – whether it's down the road or across oceans!
To find out more or get your personalised removal quote, call our friendly team on 0800 141 3688 or drop us an email: [email protected] for your free quote.