European Removal Services
Whether you are moving from the UK to Europe for a lifestyle change, as part of a relocation package or you just might have some items to send to Europe, you will want to work with a professional removals company. Masons Moving Group, have over 100 years in the removals and storage industry of which more than 50 have been spent helping people move abroad.  
Moving to Europe or further afield is not as straightforward as moving within the UK and once you've contacted us, we will have a surveyor come round at a time convenient to you and assess the amount of effects to be transported to Europe. Following your survey, your European move co-ordinator will then contact you to discuss the various transport and packing options based on the amount of items, your time-frame and budget. Your international move co-ordinator will be on hand from start to finish to answer any questions you may have about moving abroad.
Here we explain the different European services and transport methods available.  With every transport option we offer, we provide a unique service that's built around you
Dedicated Door to Door Service or Full Container Load
If you wish to transport a large amount of items within mainland Europe then our tailor-made, dedicated European door to door road service or Full Container Load (FCL) service will be exactly what you need. The team at Masons will collect your effects and will schedule a delivery on your specified dates. Your European move co-ordinator will put together a move plan which will be discussed then confirmed in writing.
Groupage service – European part-load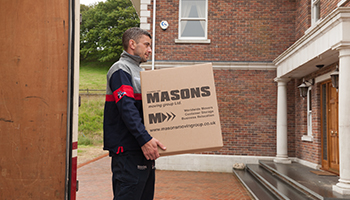 However, if you have a smaller load to send and have a bit more flexibility with the arrival of your belongings, then our Consolidated Groupage Service may be perfect for you. Your belongings will be moved and taken to the Masons warehouse where they will be consolidated with other consignments. With this service you will be given a timeframe from collection to delivery of between 7-30 days. Approximate dates will be given in your quote and final delivery date will be advised in advance.
Airfreight and Casing Service
If you require a quicker service by Air, either for smaller consignments, high value effects or fine art, Masons provide a bespoke casing service which will suit your needs perfectly. We take your effects to our depot where we will pack and case them individually for transportation, adding extra protection, before transporting them to an international airport. This option is perfect if you're on a tight time schedule.
Masons export packing service is second to none. Using a combination of quality materials including bubble laminate, known as 'Furniguard', items are overwrapped individually before they leave the house of origin and prepared for your move abroad.
Accredited European Partners
Masons work with accredited partners worldwide, who have specialist local knowledge and experience. This network of agents help with anything from organising parking permits, outside elevators for apartments on higher levels, shuttle vehicles and advising on restrictions in towns and cities, such as Paris, Madrid, Rome, Barcelona, whose narrow streets can restrict access.
If you're not sure what removal service is best for you, or just want to find out more, then feel free to contact the European Removals team at Masons Moving Group either by giving us a call on 0800 141 3688 or dropping us an email at enquiries@masonsmovingroup.co.uk who will be able to advise you on the perfect removals option for you at the most competitive price.