Whether you're moving abroad for work or a change of lifestyle, or perhaps you just need to ship some items internationally to family, we have a variety of international shipping methods to suit you. Wherever you are moving, Masons Moving Group will be on hand to discuss your international removal requirements and help you to find the perfect moving solution that's tailor-made to suit your needs.
With every option we offer, we provide a unique service that's built around you. Once you've contacted us, we will have a surveyor visit you at a time convenient to you and assess the amount of effects to be shipped; then your personalised international move co-ordinator will discuss with you the best shipping options based on the amount of items, your time-frame and budget and be on hand throughout your move.
Take a look below at our international shipping options…
Exclusive Use of Sea Container (FCL)
If you wish to transport a large amount of items such as your whole home or business and you need this done by a specific deadline then our more tailor-made, Full Container Load (FCL) service will be exactly what you need. Your belongings are loaded into a container for your exclusive use which is then sealed and taken to the port. Where possible this will be loaded up at the originating residence. On the other side, your effects will be delivered directly from the container, with the exception of countries whose customs regulations, or difficult access do not allow.
International Groupage/Baggage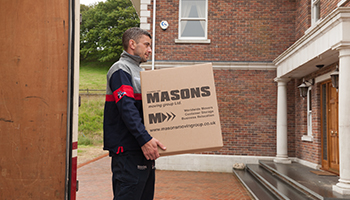 If you choose the International Groupage option, a particularly cost-effective method, Masons will move your belongings to our depot where they will be held until the next available shared container. Once shipped and your consignment has cleared customs, it will be delivered to its final delivery address and unpacked, with debris removed by the local agent. If you are using the baggage consignment option (usually a suitcase or one to three boxes maximum) this will be shipped on the same basis to the resident address but not unpacked.
Shared Use of Sea Container (LCL – cased service)
Less handling, more protection for your effects.
If you choose the Shared option (LCL – cased service) your belongings will be taken to Masons depot where we will be 'over-cased', which gives extra protection, and then loaded into the shared container and taken to your International destination on the first available vessel, where the goods will be unpacked and debris removed by the overseas agent. This is usually a faster shipping service than the International Groupage option.
Airfreight (cased service)
If you require a quicker service by Air, for smaller consignments, high value effects or fine art, we can provide a bespoke Airfreight cased service which will suit your needs perfectly. This option is perfect if you're on a tight time schedule, as sending the items in this mode can speed up the transit time of your move abroad. Your belongings will be taken to the Masons storage facility for expert packing and casing, for extra protection, before being transferred to an international airport where they will be freighted onto an available flight.
A highly recommend professional packing service that individually wraps your belongings in a fortified bubble wrap known as 'Furniguard'. Items are individually labelled and numbered and added to an inventory that can be used for customs documentation. Included in this service is the placement of moving boxes in specific rooms, the unwrapping of furniture and unpacking of boxes onto flat surfaces. It also includes the re-assembling of items, such as beds, that have been dismantled for the removal.
Accredited global partners
Our range of international shipping methods ensures that we will have the perfect solution for your moving requirements. All of our shipping methods are safe and reliable, plus to guarantee your peace of mind we work with accredited partners worldwide, who have specialist local knowledge and experience and who will be there to assist with your final delivery and any customs clearance and formalities.
Still not sure what's the best shipping method for you?
If you're not sure what shipping method is best for you, then feel free to contact the International Removals team at Masons Moving Group either by giving us a call on 0800 141 3688 or dropping us an email at [email protected] who will be able to advise you on the perfect removals option for you at the most competitive price.