Masons Removals, today rebranded as Masons Moving Group,  are expert movers based in South Wales with over 100 years in the removals and storage industry.
From our humble beginnings of a horse-and-cart company, Masons has grown to become one of the best national removal companies as well as one of the most professional local removal companies.
Our experience puts us as one of the longest standing and most trustworthy moving companies in the UK, so you can trust Masons to get the job done safely, securely and efficiently.
Esme Mason holding son Gordon by the side of an ex army removal van in 1961
Jim Mason & shop assistant outside 1st shop in Main Street, Cadoxton 1920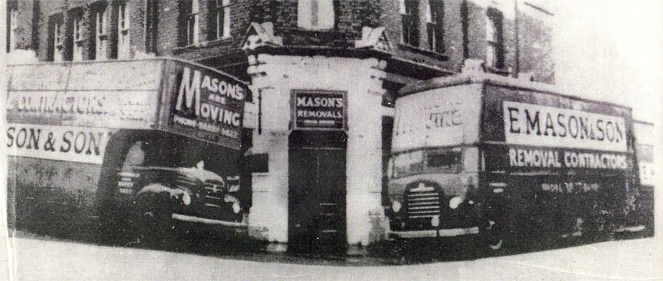 Mason's headquarters in Barry 1959
Masons Removals – History
Masons have been providing the best removals and storage service in Wales,  across the UK and around the world for four generations.
The business was set up in 1905 by Sidney Mason who opened up a shop in Main Street, Cadoxton, Barry selling second hand furniture and making deliveries by horse and cart. Sidney passed the business down to his son Eric who worked with his father until he trained as a fighter pilot. He was then stationed in Burma until he came back home in 1947.
When Eric came home, he took over the business full time and bought the first Masons Removal van – an ex-army Bedford Pantehnicon.
By 1958, Masons now had three shops in Barry and Eric's wife Esme had started working with the business. It was also around this time that a major change happened in Masons. The second hand furniture market crashed over night and the furniture removal side of the business took precedent – and it's been that way ever since.
Upon Eric's death in 1983, Esme took over the business with their first son Gordon – who started working with the company when he was 15 – she is now retired after 53 years of service. Today the company is managed by Esme's three sons Gordon, Brett and Richard who have recently been joined by Esme's grandchildren, bringing a fourth generation into the business.
Over the years, Masons have helped celebrities including Colin Jackson, Gerrard Houlier and the Archbishop of Canterbury as well as the worldwide exhibition of Star Trek memorabilia when the display came to visit Cardiff. They also proudly helped local troops transport their kit bags during the first Iraq war.