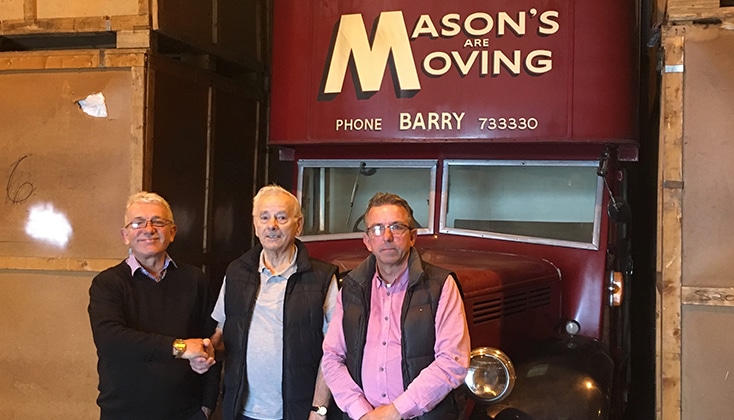 Have you ever accidentally started a police chase through Sweden? That is what happened to much loved Graham Thomas back in 1995 when he was on a job for Masons Moving Group based in South Wales! It was in the days before we were part of the European Union when we had to clear customs for onward delivery to the customer, and there weren't roll on roll off ferries for commercial vehicles as we have today. This meant that Graham and his vehicle were put on a container ship with no facilities for passengers from Hull to Gothenburg. When Graham arrived in Gothenburg, a man on the ferry side waved him through, Graham thought that this meant that he had cleared customs. Big mistake! The police followed him to his destination, Vasteros in Northern Sweden (which is approximately a four hour drive!) where he then apologised for his actions and explained the miscommunication and was eventually cleared through customs on delivery, although at a cost to the company!
It is with heavy hearts here at Masons Moving Group that we are saying goodbye to Graham and wishing him well on a very belated retirement! Graham has worked for Masons as a European Driver for 25 years without taking a single sick day, however this story gets even more impressive – Graham is only just taking retirement at 80 years old!
When Graham came in for his interview at Masons Moving Group, he was already 55 years old and had run his own transport business until the recession hit in 1987. To keep food on the table Graham had been taking on a number of odd jobs, including a Milk Round! However, he knew that he had to find something more stable and approached Masons Moving Group, known then as Masons Removals. Gordon Mason, one of the directors at Masons Moving Group, interviewed Graham and asked him why he wanted to work for Masons. Graham replied that he could see Masons growing and expanding in Removals in Cardiff as well as overseas removals despite the recession.
Graham's father was a Welsh Farmer and Graham decided that he wanted to do something different, so he went into transport and had his own small removals company: Graham Thomas transport. He worked a lot with the Royal Air Force at the time, transporting their smaller 360 cubic feet jobs and also doing small private removals around the Vale of Glamorgan. Due to Graham's previous work and dedication, he was soon taking responsibility for the large European removals which has meant that Graham has travelled the equivalent of around the world twice moving customers belongings!
The 80 year old Graham today, says that if it wasn't for his work with Masons he would never have seen so many parts of Europe. He has been to Gibraltar, Madrid, Malmo, Berlin, Rome, Vasteros to name just a few, including some places that he didn't know existed! He remembers going through villages in Spain and seeing houses without roofs, these were the days before Britain joined the European Union and before the huge boom in low cost airlines that brought Europeans flooding into Spain and other parts of Europe. Back then T2 forms still existed and border controls were much stricter and more complicated than they are today.
Graham's memory is as sharp as ever, and we sat for a while listening to some of his amazing stories like when customs blew up his colleague's, Steve Jones, lock box that was full of street maps because Steve didn't have the key on him. These were the days that pre-dated Sat Nav's and Steve kept his street maps safely locked away!
Graham has dedicated his life to the removals industry, including the years running up to his time at Masons, and he is always ready to lend a helping hand even at 80 years old! Brett Mason, a Masons Moving Group Director, commented that if we had more drivers like Graham then he would be able to get out and play more golf!
It is no doubt that Graham will be missed by everyone here at Masons. We wish him well in his belated and very much well deserved retirement!