With any business, there's many hidden gems behind the scenes that keep the cogs turning. These hidden gems are the unsung heroes that often don't get the recognition they deserve. Or they shy away from the spotlight! However, it is their hard work and dedication that ensures customers have good experiences! This is definitely the case at Masons Removals Cardiff & Wales, where we have been looking after our customers during one of life's most stressful moments: moving home or offices, for 115 years!
Behind the scenes, there is a whole Operations Team who are passionate about ensuring that Moving Day goes smoothly for our customers. Whether they're moving to Swansea or to Sydney! Our office mascot, Wilson, also helps out where he can!
Over the next few weeks, we're going to introduce you to our hidden gems here at Masons Removals Cardiff & Wales. We're kicking off this series with Brett Mason, one of our Directors who is responsible for oiling the European operations cog at Masons!
Inside a Family Business: Brett Mason, Director at Masons Removals Cardiff & Wales
Brett hadn't intended to work at Masons, he had dreams to work as an Electrical Engineer and travelling the world. He completed a 4-year apprenticeship as an Electrician and achieved Electronic Engineer status with his HND in Electronics working at Aberthaw Cement. Whilst waiting for his new position at Atomic Weapons Research at Greenham Common, he helped out at Masons Removals driving the 7.5-ton truck. However, when his father, Eric Mason, died in the early 1980s, this turned everything upside down. Brett knew in his heart that he had to jump into the family business. So, 38 years later, Brett is still running the show with his two brothers, Gordon and Richard Mason.
Over the next nine years, Brett stayed driving the trucks at Masons Removals. Then as the business developed with self-storage and an increasing number of commercial and overseas contracts, we hired more drivers and Brett moved into the Surveyors position.
He carried out the surveys for about 3 years but as Masons continued to grow, we took on an Estimator full-time and Brett moved into the office. For his first 15 years of working in the office, Brett was focused on developing and growing all aspects of the Operations Division, including the setting up of the Bishops Move Franchise. He also continued to develop the overseas & European side of the business, which started out as 1-2 international house moves a year but grew rapidly. He was already a Director in his 20's!
The highlight of Brett's day is working with the crew as well as with customers. One of his main jobs each day is to debrief the team driving the trucks. Sometimes, he  meets up to 30 men a day before setting them off on their journeys!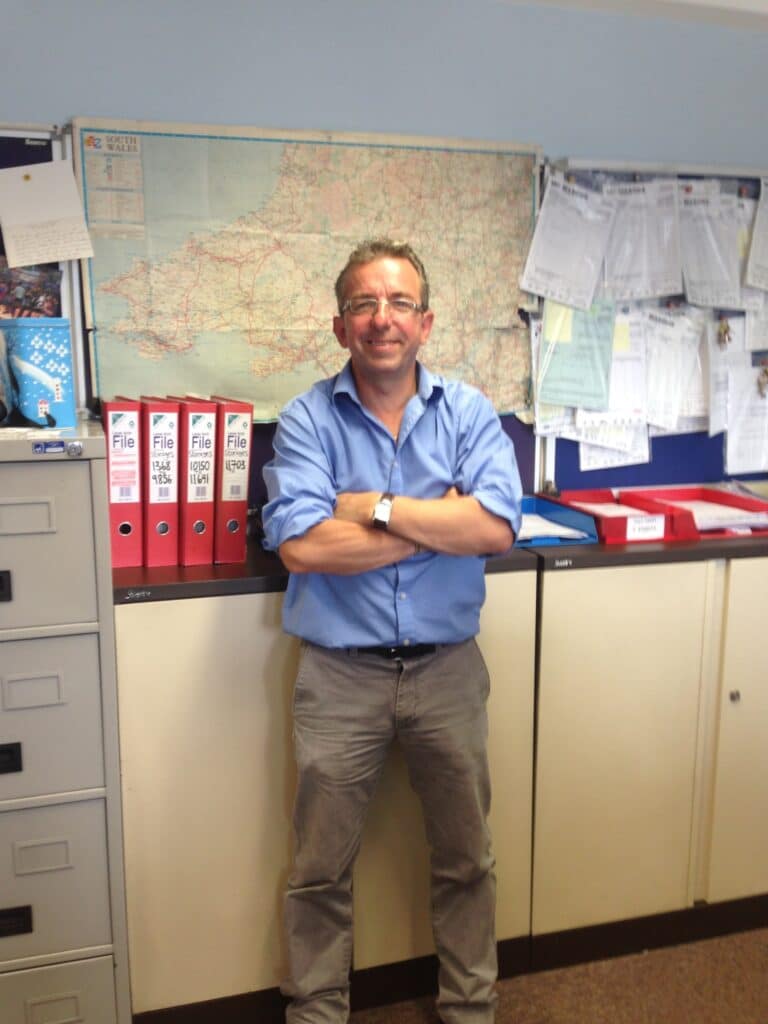 We asked Brett, what does the future look like for Masons? He said:
Whilst Brexit will affect us all in some way, it doesn't seem likely to slow down us here at Masons! We undertake a lot of removals for the Military and have done for the past 30 years, we  frequently go across to Belgium and Southern Europe. In terms of house moves, people are still wanting to move to Europe and across Europe, with or without Brexit. Plus, over the last few years, new markets in Europe have opened up, in Switzerland for example.
Our vans today are better than ever before! Vehicles are so much more high-spec, they're made from higher quality materials, making them even more reliable than ever. Plus, the industry is making its effort to be more environmentally conscious, using materials that are more environmentally friendly than they have been in the past.
Brett's advice for a successful business…
If you ensure that you always have a good team behind you that want to offer a high-quality professional service, you'll always be ahead of the game. Although running your own business can be demanding, you can be endlessly rewarded when you have a great team around you, providing a great service for your customers!
You also need a sense of humour as it is a hard business and can be very demanding, but when you have a good team, it works. The morale in the workforce, both in the office and on the vehicles has been kept consistently high because without these employees we wouldn't have a business, so we treat them like family, we're always here for them. Most of our team has been with us for years and years, Steven Jones has been with us since the beginning of my career, working for Masons for over 45 years!
Although Masons Removals Cardiff & Wales keeps Brett pretty busy, he manages to fit in a game of golf on a Sunday! He plays mostly at Dinas Powys Golf Club, although recently he worked out that he has played golf in 17 countries around the world on his extended travelling! He likes to travel with his lovely wife, Samantha, discovering new destinations. Brett and Samantha have two children, Warren, who also works at Masons Removals and Fern, who works with children with disabilities.
Look out for next week's instalment in our Inside a Family Business: Meet the Operations Team series!
If you're looking for a Cardiff removals company, for home or office moves in Cardiff around Wales or further afield, here at Masons Removals Cardiff, we have a team of expert movers that can help! With over 115 years of experience, we understand what it takes to remove the stress out of moving home.
To find out more, or to get your personalised removals quote; call our friendly team on 0800 141 3688 or drop us an email: enquiries@masonsmovingroup.co.uk for your free quote!